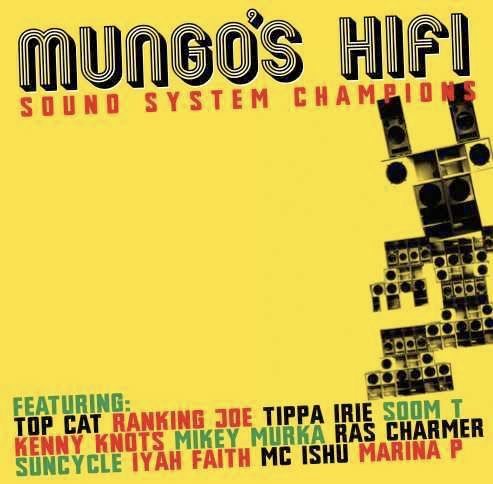 Rockers Revolt proudly presents...
MUNGOS HI FI - SOUND SYSTEM CHAMPIONS (RRHITCD5)
in the shops on 8th September 2008 - dist.by Active/Universal
AVAILABLE NOW FROM www.rockersrevolt.com
Scotland's No1 sound system & bona-fide institution, Mungos Hi Fi have been releasing hits since 2001 when their killer tracks Wickedness and Ing featuring Brother Culture first took the world by storm getting heavy plays by Jah Shaka, the late great John Peel and Mr Scruff who went on to include Ing on his Solid Steel mix released on Ninja Tunes.
Their weekly Dub 'n' Grub nights and monthly residencies at the Glasgow School of Art have played host to; Sister Nancy, Earl 16, Ranking Joe, Jah Shaka, Tippa Irie, Top Cat, Warrior Queen and many more. In the last 8 year the trio have played over 1000 shows truly earning the title of 'Veteran Selectors' and are fast becoming the most in-demand sound system in Europe. They faithfully draw on foundation Reggae, Dub and Dancehall music from the last 50 years and come away with something that is genuinely fresh.
Their debut album on Rockers Revolt "Mungos Hi Fi - Sound System Champions" spans a broad selection of musical stylings from ska and rocksteady, through roots and steppers, to rub a dub, digital roots and dancehall. As with their live sound, powered by their own enormous, homebuilt p.a., their inspirational productions continuously push reggae boundaries into new groundbreaking frontiers. Forward thinking every time!
Their vinyl-only releases on their own Scotch Bonnet imprint instantly sell in the thousands from Japan to the US, New Zealand to Poland. With festivals booked across Europe and here in the UK (Camp Bestival, Glastonbury, Knockengorroch, Shambala) and airplay from Rob Da Bank, Mary-Anne Hobbs, Ras Kwame, Steve Lamacq, Brinsley Ford, John Kennedy-xfm and David Rodigan their forthcoming album, featuring an onslaught of world class MCs & singers (Ranking Joe, Top Cat, Tippa Irie, Kenny Knots & more) "Mungos Hi Fi - Sound System Champions" looks set to be huge.
You can get your copy now from
www.rockersrevolt.com
Tracklisting;
01 Divorce A L'Italienne ft.Marina P
02 Don't Let Them Break Your Heart ft.Kenny Knots
03 Herbalist ft.Top Cat
04 How You Bad So? ft.Ranking Joe
05 Under Arrest ft.MC Ishu
06 Old Time Dance ft.Mikey Murka
07 Ruff Mi Tuff ft.Tippa Irie
08 Rasta Meditation ft.Kenny Knots
09 Rooster ft. Aya Faith
10 Songs of Zion ft.Ras Charmer
11 Around The World ft.Suncycle
12 Did Your Really Know ft.Soom T